One of Silicon Valley's best-known venture firms, Andreessen Horowitz, saw its performance slip significantly after the blockbuster results of its initial fund, internal data show, illustrating just how cutthroat venture capital has become as even big names struggle to deliver outsized returns. 
The funds the firm raised in 2010 and 2011 showed a net internal rate of return of 16% and 12%, respectively, as of Sept. 30, 2018, according to an internal report on Andreessen Horowitz prepared by one of the firm's current limited partners and seen by The Information. During those years, Andreessen Horowitz's limited partners—the pension funds, university endowments and wealthy individuals who put money into its funds—could have done about as well investing in common stock market index funds.
The results are a significant drop from the 44% return rate of its 2009 fund, which benefited from an investment in Skype, the internet telephone-calling company that Microsoft acquired in 2011 for $8.5 billion.
The Takeaway
• Net IRR for 2010, 2011 funds was 16%, 12% as of Sept. 30, 2018
• S&P 500 performed similarly over the same period
• The firm's 2009 fund had a 44% return rate
The lower returns underscore the highly competitive nature of the venture capital business, where a combination of factors can depress a firm's returns. Poor investments can contribute to a fund's weak performance, but so can decisions to put too little money into startups that ultimately turn into smashes. As venture capitalists raise larger funds, it is especially important that they back their hits with larger investments if they are to beat the market on overall returns.
Andreessen Horowitz's $656 million 2010 fund and its $204 million 2011 fund included stakes in Slack, Stripe and Airbnb, according to the data firm PitchBook, all three of which are regarded as significant hits. The size of those investments couldn't be learned. 
The chart accompanying this story shows the net internal rate of returns for Andreessen Horowitz's funds raised between 2009 and 2017, figures which are normally closely guarded secrets inside venture firms and among their limited partners. Net internal rate of return shows how much an investment in a venture fund returned on average annually, after a venture firm's fees are deducted.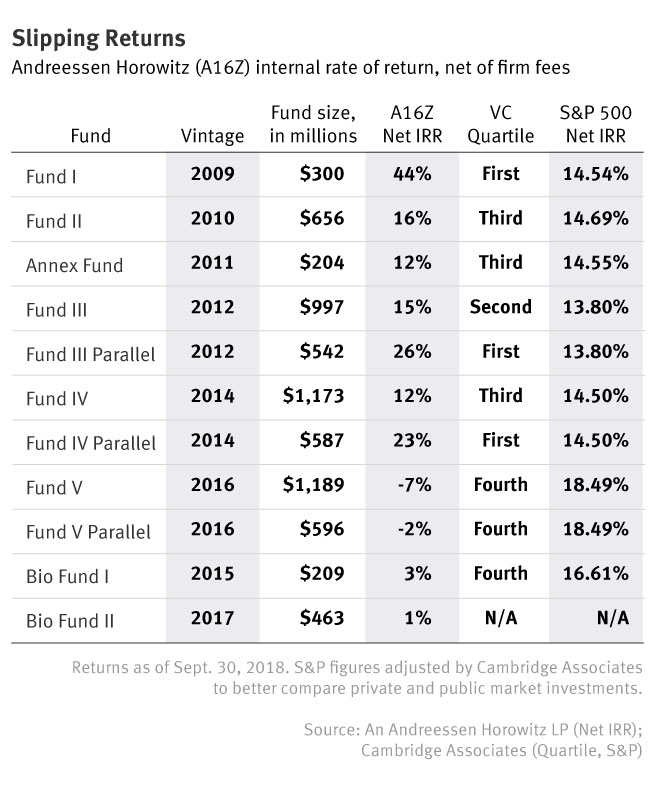 As the chart shows, more recent funds raised by the firm—which also goes by the abbreviation A16Z—have also shown weak returns, though it is too early to determine whether they are successes or failures. Venture funds generally require between seven and 10 years before it is possible to fairly assess their performance. 
Significant chunks of the investments of newer funds are often unrealized, existing in the form of illiquid stock in companies that have yet to go public, get acquired or begin generating significant cash flows. Like other venture firms, Andreessen Horowitz regularly reassesses the value of such companies, which is an imprecise science, and it is possible that the firm takes a more conservative approach than others do. 
A spokeswoman for Andreessen Horowitz said the firm doesn't comment on its returns.
Following a Wall Street Journal story three years ago on the firm's returns, one of its partners, Scott Kupor, wrote in a blog post that the valuation methods venture capitalists use for their unrealized investments are not the same from firm to firm, complicating comparisons.  
"Venture capital is a long game," he wrote. "Calling the outcome on funds that are less than 5 years old, where many of the portfolio companies haven't even shipped their products, based on non-uniform, point-in-time valuation metrics, is like reporting the Super Bowl winner based on the result of pre-season NFL games or even training camp scrimmages."
Blockbuster Beginnings
Andreessen Horowitz made one of the splashiest debuts of any new venture firm when it arrived on the scene in 2009 with its first fund, a $300 million pot of money. The founders of the firm, Marc Andreessen and Ben Horowitz, had both previously worked at Netscape Communications, the early web browser company, and later sold their startup Opsware to Hewlett-Packard for $1.6 billion. 
They shook up the venture business by modeling the firm after a Hollywood talent agency by providing boutique services for portfolio companies including public relations, recruiting and other functions. And its reputation soared as the firm's debut fund became a blockbuster success, thanks in part to a fortuitous investment in Skype.
Along the way, critics say, the firm developed a reputation for overpaying for deals and offering founders terms that are overly generous, a move that could decrease the firm's future returns. One investor who competes with Andreessen Horowitz said the firm hasn't doubled- and tripled-down on winners the same way other firms have. 
Competition for the hottest deals has also grown over the past decade. The amount of money invested in private companies has soared in the years since Andreessen Horowitz's inception. In 2009, venture deal-making amounted to $27.2 billion in the U.S., according to PitchBook. Last year, it was almost five times that amount—$132.1 billion.
While there is some disagreement in the world of venture capital over the best measurement for judging the performance of funds, net internal rate of return is favored by many limited partners because it allows them to compare those investments to public market indices, such as the S&P 500 and the Russell 3000 Index.
The 2010 Andreessen Horowitz fund performed slightly better than investments made in the S&P 500 in the same year, while the 2011 fund did slightly worse. The S&P 500 showed a return of 14.69% and 14.55% from those years through the end of last September, according to calculations by the investment firm Cambridge Associates, which adjusted the numbers to better compare public and private company investments. 
The performance of the 2010 and 2011 Andreessen Horowitz funds placed each of them in the third quartile of venture firms for those years as of the end of September 2018, according to benchmark data from Cambridge Associates (venture funds are often ranked by performance into one of four tiers). The top quartile of 2010 and 2011 venture funds returned at least 25.8% and 22.37% respectively through the end of September 2018, according to Cambridge Associates. Top-tier venture firms can deliver net returns of 30% to 35%.
Several of its funds earned better rankings, including two 2012 funds and one in 2014. Those funds included key investments in GitHub and Oculus VR, which were acquired by Microsoft for $7.5 billion and Facebook for $2 billion, respectively.   
According to the internal report prepared by the Andreessen Horowitz limited partner, a risk for its funds is "mediocre" returns. Several of the firm's funds with earlier vintages have so far generated disappointing liquidity—indicating that they didn't produce easily tradable stock through IPOs or cash by being acquired—compared to that of other funds, according to an assessment in the document. The limited partner's assessment suggests that Andreessen Horowitz's returns improved in December 2018 with new investments in top-performing portfolio companies. 
Venture capital firms typically charge a 2.5% management fee and take 20% of whatever is left after they return the money originally put into the fund, which is known as "carried interest." Some elite firms charge 25% carried interest or higher.
Sign up to receive 5 free days of our daily summary for tech news.
Already a subscriber? Log in here
One of the most prominent companies in its portfolio to go public lately—the ride-hailing company Lyft—has seen its shares fall almost 40% since its IPO in March. Airbnb, another high-profile company in its portfolio, is expected to go public by next year, which could help boost the returns for its funds. 
In the meantime, Andreessen Horowitz had made a number of significant changes to the firm. After years as an all-male firm, it has in recent years added three women to its top tier of partners, including Kathryn Haun, a former federal prosecutor, who last year became one of the leaders of its first cryptocurrency fund. And earlier this year, the firm registered as an investment advisor to double down on investments in high-risk sectors like cryptocurrency.