Abdullah Baidas had just pulled over to help the victims of a minor traffic accident on a freeway north of Houston when the truck with the blue smiley-face logo on its side shattered his body.
The 23-year-old mechanic was standing on the shoulder of the freeway reporting the original fender bender to a 911 operator by phone. The call provides a grim audio record of the moment in April 2020 when the 30,000-pound tractor-trailer—which was hauling freight for Amazon—barreled into him. In a recording of the call obtained by The Information, Baidas' conversation with the emergency dispatcher is interrupted at 1:33 a.m. by a scream and the sound of crunching metal.
"Hello? Hello?" asks the dispatcher, her voice shaking. "Oh, my goodness."
The Takeaway
• Trucks with Amazon cargo were involved in at least 53 serious crashes since 2019
• The crashes caused at least 14 deaths and 60 serious injuries
• Amazon is facing new legal challenges to its efforts to limit liability
The impact of the truck vaulted Baidas off the highway overpass onto a service road 15 feet below, fracturing his skull and spine and crushing his legs, both of which would later be amputated. On the recording, the sound of the initial crash is followed by more than a minute of near silence, as the 911 operator repeats the word "Hello?" over and over to no response. Eventually, the silence on the other line is broken by a pained groan from Baidas, and then a persistent wail.
As awful as Baidas' injuries were, the totality of the carnage on I-45 that morning was much worse. Before it hit Baidas, the Amazon truck struck all three of the cars involved in the original traffic accident, severely injuring two infant passengers in their car seats. The truck then swerved onto the shoulder of the road and crushed the children's mother—a pregnant 21-year-old woman named Jackie Garcia—and Kendrick Cox, a 29-year-old man standing next to her, killing both of them.
Photos of the accident show an Amazon trailer with a billboard-size version of its smiling arrow logo and the slogan: "There's more to Prime. A truckload more."
This account of the accident comes from multiple police reports, investigators' narratives, court records and audio recordings of seven calls made to emergency services that morning.
The driver behind the wheel of the truck was Cory Munson, a 56-year-old man who later told police he didn't see the throng of people and parked cars on the shoulder of the freeway until it was too late and couldn't remember if he had braked before hitting them, according to one of the investigations of the accident submitted to the court as part of a lawsuit filed by Baidas in Harris County District Court in Texas. Munson had been driving for nearly six hours prior to the accident and was nearing the exit for one of Amazon's many Houston distribution centers at the time of the crash.
Like nearly all of the truckers who move freight for Amazon, Munson—a truck driver for nearly three decades, he told investigators—wasn't an Amazon employee. Instead he worked for the trucking company J.B. Hunt, spending the two years prior to the accident working for a unit of the company dedicated to moving cargo for Amazon, according to J.B. Hunt records submitted as part of the Baidas case.
Those records blamed Munson's "inattention," "complacency" and other causes for nine near-crashes and one collision with a stationary object. One citation for "excessive braking" noted that Munson was driving at approximately 127 miles per hour when he failed to stop at a stop sign on his way to an Amazon warehouse in Texas.
In the weeks prior to the Houston crash—a period when a pandemic-related surge in online shopping was pushing Amazon's operations to the limit—Munson had complained repeatedly in social media posts about his long shifts, exhaustion and insomnia, according to copies of Facebook posts seen by The Information, which were also submitted as part of the court case. Some of the posts prompted concerned comments from friends and family. In response to one comment, which urged him to "drive safe," Munson replied that it was "hard sometimes."
Amazon's explosive rise in retailing has reshaped the world around it in many conspicuous ways, from the decay of brick-and-mortar stores to the ubiquitous Amazon delivery vans that roam neighborhoods bringing packages to customers. A less visible facet of that growth is the vast fleet of 18-wheel trucks that mostly traverse highways, transporting Amazon goods between the company's warehouses, shipping hubs and airports. In the U.S. alone, the company has more than 37,000 Amazon-branded trailers—the freight-carrying portion of semitrucks that are pulled by the front units known as tractors. Individual Amazon warehouses often see hundreds of truck visits a day.
Collectively, the trucks play a critical role in allowing Amazon to get packages to customers faster and faster, which in turn helped boost its online retail sales 40% last year to nearly $200 billion. The company's success has made Amazon CEO Jeff Bezos the richest man in the world.
But the convenience made possible by Amazon's trucking operations has come at a cost. An investigation by The Information has identified a pattern of serious crashes involving drivers moving freight for Amazon. Between April 2018 and April 2021, those drivers played a role in at least 53 serious crashes, which caused at least 14 deaths and 60 serious injuries, including several that led to amputations.
The vast majority of the accidents involved serious or fatal injuries to people in other vehicles, while fewer than a dozen of the crashes injured only those people in the trucks hauling freight for Amazon.
---
An Atlas of Accidents
The locations of serious accidents in the San Antonio, Houston and Dallas regions between 2019 and early 2021 involving trucks hauling Amazon freight
---
Many of the accidents occurred in the early hours of the morning when semitrucks drifted onto the shoulder of a road or crossed the highway median and careened into oncoming traffic. Trucking experts say these maneuvers are often seen in crashes caused by inattention or fatigue.
"This would be one thing if we were talking about workers on a factory floor, but this is happening on our public roadways, which we build and maintain and use alongside them, and no one really seems to be noticing," said Steve Viscelli, an economic sociologist at the University of Pennsylvania who studies freight transportation and spent six months working as a long-haul trucker.
In all likelihood, the total number of serious crashes involving trucks moving Amazon freight during that period was higher than 53. But it's difficult to comprehensively connect trucking accidents to the internet retailer because it relies on a network of independent trucking companies to move its goods.
Accidents involving large trucks are recorded by federal and state agencies under the names of the trucking companies that employ the drivers, not the clients who hire them. That also makes it nearly impossible for outsiders to determine how the accident rate for truckers doing jobs for Amazon compares to that of truckers working for other companies.
For its part, Amazon declined to share data on its trucking accident rates with The Information. The company said it monitors federal safety records for the industry and reviews carrier safety profiles after each reported accident. If it finds compliance issues, Amazon says it won't allow those carriers to continue hauling its freight.
Even without knowing the accident rates of trucks hauling Amazon cargo, the fatalities and injuries they cause merit attention. Amazon has a $1.6 trillion market value. Its sales are skyrocketing, increasing its dominance of e-commerce. The number of people it employs grew 51% to 1.27 million in its most recent quarter. The growth has prompted growing scrutiny of Amazon's practices across the board.
To compile its accident figures, The Information combed through a combination of crash reports from law enforcement agencies, lawsuits by accident victims, local news coverage of individual accidents, social media posts and other public records. Those sources often connected the trucks to Amazon for a simple reason: Their trailers either had giant Amazon logos on the side of them, or—if they didn't—spilled out Amazon packages following collisions.
The result is a grisly tally of accidents involving trucks working for Amazon during that period.
One driver transporting products to an Amazon warehouse in Kansas City in January 2020 had only possessed a commercial driver's license for a few weeks when he swerved into oncoming traffic and hit a sedan, seriously injuring the three passengers and resulting in the amputation of a 53-year-old woman's right arm. Another trucker was hauling an Amazon trailer down Interstate 95 in central Florida in June 2020 when he rear-ended the car of a 23-year-old man, sending it spinning off the highway and onto the nearby shoulder. The man was pronounced dead 30 minutes later.
Just eight days later, a different trucker hauling Amazon freight just south of a cluster of Amazon warehouses in central New Jersey rear-ended a nearby car, killing a 1-year-old boy named Messiah who was strapped in the backseat and sending another infant—Messiah's 3-year-old brother—to the hospital with life-threatening injuries. The children's mother, a 24-year-old woman who was driving the vehicle at the time of the crash, was also injured, as was her 61-year-old mother, who was in the passenger seat.
A recent visit to the front porch of the family's home in Brooklyn, N.Y., revealed a plaque inscribed with the words "Messiah's Home 2020."
Amazon invariably says it isn't legally liable for injuries and deaths caused by the truckers transporting its freight because they aren't its employees. In a legal filing related to a 2019 truck crash that resulted in the death of a 73-year-old man in Kansas, Amazon quoted from a boilerplate agreement with its carriers, that says they are "required to indemnify and hold harmless Amazon from any third-party claim, liability, loss, damage, cost, or expense incurred by Amazon arising from or relating to the death of any person due to an act or omission" by the carrier or its personnel.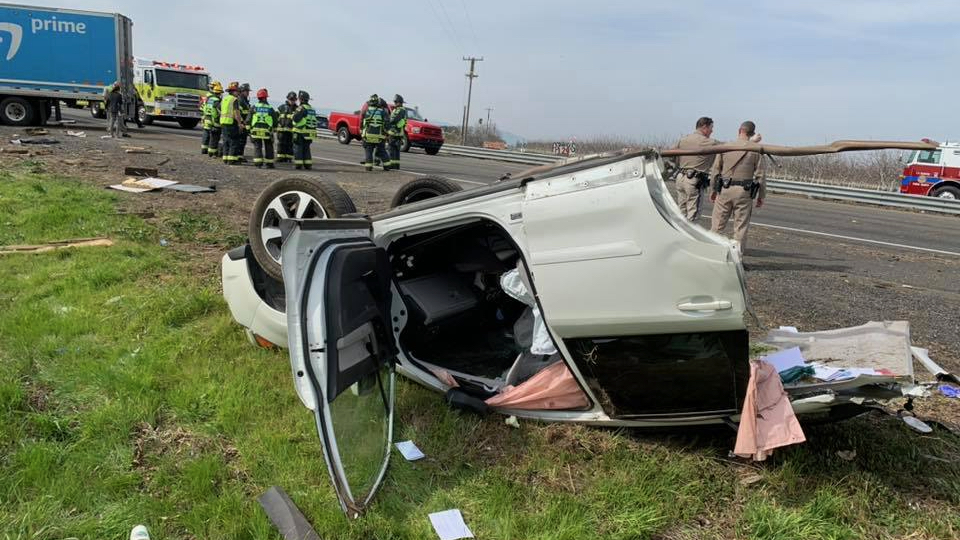 It's an argument that has helped the internet retailer extricate itself from past personal injury suits. But that defense could face a more serious test in a new round of lawsuits stemming from trucking accidents.
Victims in those lawsuits argue that Amazon maintains tight control over the actions of its drivers and the small trucking companies they work for, making it responsible for driver negligence on the road. Over the last several years, as The Information has previously reported, Amazon has taken even more control over its trucking operations with an Uber-like technology platform called Relay through which independent trucking companies book jobs moving Amazon freight. Amazon has also started loaning Amazon-branded tractors to truckers who agree to drive exclusively for it.
There's another benefit to outsourcing trucking jobs to contractors, as Amazon does: It's cheaper than paying for full-time employees. But that choice has safety consequences, academics who study trucking argue.
"Amazon wants to move stuff quickly, but it doesn't want to pay for it," said Viscelli. "That means the kind of contractors that Amazon is sourcing from will be the bottom of the barrel in terms of cost as well as safety."
Amazon declined to respond to a detailed list of questions over a period of weeks about its trucking safety practices and specific accidents involving truckers working for Amazon. Instead, an Amazon spokesperson provided the following statement: "Amazon operates a safe shipping network and to state otherwise is simply not true. We require all carriers operating on our behalf to follow state and federal requirements that govern the operation of commercial motor vehicles, regularly audit for compliance, and take action if necessary.…There are tens of thousands of drivers moving millions of customer packages every week, almost all without incident, and we continue to invest in improving transportation safety across our operations with the goal of achieving zero incidents."
Munson and attorneys representing him and J.B. Hunt in a lawsuit filed by Baidas didn't respond to numerous attempts to reach them over a period of weeks, including by email, phone and certified mail. After weeks of no response, Brittnee Davie, vice president of marketing for J.B. Hunt said, "J.B. Hunt does not provide comment on matters related to pending litigation."
When reached by phone, Kevin Riley, an attorney representing J.B. Hunt at the firm Mayer LLP in Houston, went silent after a reporter for The Information introduced herself and explained the purpose of her call. The sound of shuffling paper came over the line, followed by Riley saying, "Ma'am, I believe you're breaking up." The line then went dead. He didn't answer multiple subsequent calls.
Deadly Crashes
In many ways, Amazon modeled its expansion into trucking—a segment of the supply chain known as middle-mile delivery—on its successful expansion into last-mile delivery, the shuttling of packages on the final leg of their journey from shipping hubs to customers' doors.
Starting six years ago, Amazon began a serious push to reduce its reliance on private mail carriers, like the U.S. Postal Service and UPS, by paying fleets of independent contractors to deliver packages using Amazon-branded vans and their own personal vehicles. The shift made it possible for the company to dazzle customers with perks such as two-hour shipping and same-day delivery, both of which are generally highly expensive services to offer.
Even with the additional cost control that its in-house delivery network provides, shipping costs are still one of the biggest operating expenses at Amazon. They rose 58% to $17.2 billion in the first quarter of the year—outstripping the company's 44% revenue growth in the same period. And Amazon plans to continue spending aggressively in that area. In an April earnings call with reporters, Chief Financial Officer Brian Olsavsky said the company is continuing to invest heavily in middle-mile and last-mile logistics, areas he described as "a large source of [Amazon's] capital spend," which was up 80% from the year prior.
The proliferation of Amazon last-mile delivery drivers also translated into more crashes for the company, along with associated deaths and injuries. Investigative news stories by ProPublica, BuzzFeed News and The New York Times published in 2019 found that Amazon had prioritized growing the size and speed of its last-mile delivery network over safety issues.
Police bodycam video from the Sweetwater County Sheriff's Department in Wyoming shows a collision involving a truck pulling Amazon cargo in January.
The consequences of mistakes tend to be more deadly in commercial trucking than in last-mile delivery, though. Because of their mass and the highway speeds they often travel at, large trucks are significantly more likely to be involved in fatal crashes than passenger vehicles and vans, according to data collected by the National Highway Traffic Safety Administration.
These crashes typically involve more than one other vehicle, and when they result in fatalities, the truck driver is rarely the one who is killed. It's one of the reasons trucking is such a heavily regulated industry.
Between 2014 and 2019, the number of fatal crashes involving large trucks on U.S. roads increased nearly 24%, despite more spending on public safety and crash mitigation measures, according to NHTSA records. Some experts believe the growth of the freight transport market and the rise of poor working conditions and lower pay for truckers are to blame. The online shopping boom has put more trucks on the road as retailers have scrambled to fulfill customer orders in less and less time.
Michael Belzer, an economist known for his research on the impact of deregulation in the trucking industry, is critical of Amazon's employment practices for truckers. In a research paper published last September, Belzer concluded that Amazon has shifted the costs of fast and free shipping onto the public in the form of heightened safety risks.
'I think the man just said that his wife is underneath the 18-wheeler.'
In an interview, Belzer, a professor at Wayne State University, also said the irregular hours and stressful working conditions drivers hauling for Amazon often experience are associated with increased fatigue, which can lead to crashes. Unlike most companies that ship cargo, Amazon's business model depends heavily on maintaining a highly flexible on-demand workforce that can move products quickly and cheaply to enable seamless one-day and same-day shipping.
Amazon closely monitors its trucking carriers' performance on the basis of four metrics: on-time delivery rate, the frequency with which they accept or reject jobs from Amazon, drivers' usage of Amazon software and the length of breaks taken, according to carrier training materials viewed by The Information, as well as interviews with drivers and a current Amazon employee.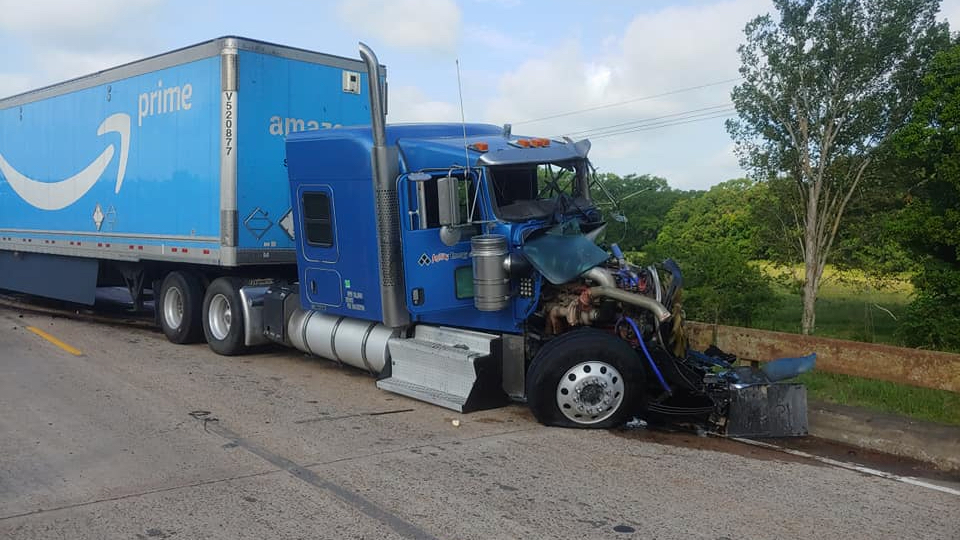 The company also monitors drivers for speeding, mistakes and accidents that occur in the yards of Amazon warehouses using a third-party software system, but these factors aren't directly reflected in carriers' performance dashboards, according to a current employee. Any decline in performance will hurt the company's ability to work with Amazon, and a score below 80% in any category could result in Amazon banning the carrier from its jobs, according to interviews with carriers and training materials viewed by The Information.
That's caused issues for some carriers, who say they feel pressured to push their drivers to meet tight delivery deadlines while minimizing rest stops, because Amazon will penalize drivers who take breaks longer than 45 minutes, even if their deliveries are on time, according to carrier training materials viewed by The Information.
One driver, who has hauled freight for Amazon for more than a year, said the stringent performance requirements mean he's less likely to pull over to rest when he finds himself feeling fatigued while driving. He feels that Amazon forces him to choose between his safety and his livelihood. The driver requested anonymity, fearing retaliation from Amazon, which is his primary source of income.
Drivers are often initially drawn to Amazon because of the novelty of its online booking platform, which lets carriers claim shifts and assign them to drivers online, and the allure of middle-mile work, which doesn't require weeks on the road like other forms of trucking, said Viscelli of the University of Pennsylvania. Amazon's focus on efficiency is also appealing at first, as it means drivers spend less time loading and unloading trailers or waiting in the yards, he continued.

"But these in-house outsourced models are designed to squeeze…at the lowest possible level," said Viscelli. That means higher expectations for workers and lower pay, he continued. "I hear mid-mile drivers and contractors complaining all the time about Amazon's rates. You're only going to get so much reliability and quality out of those services without paying for it."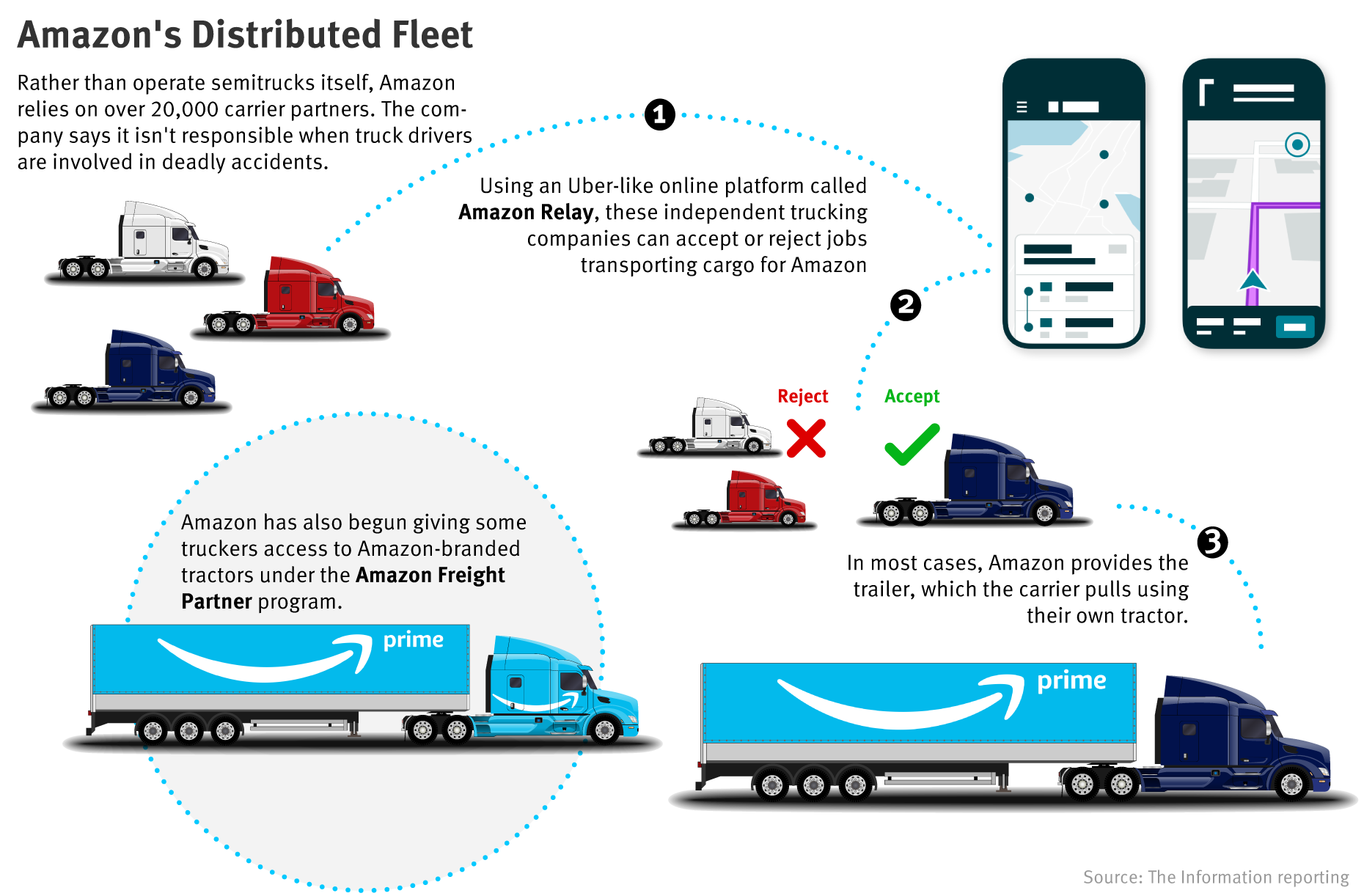 In some cases, Amazon appears to be relying on inexperienced drivers to keep its shipping machine humming. Kevin Andrews, head of Vermont's commercial motor vehicle enforcement division, has seen this in action on the highways of his state.
Beginning in late 2019, safety inspectors working for him began to notice a sharp increase in the number of small trucking companies hauling freight for Amazon which had compliance issues, including not having the proper licenses and breaking federal record-keeping requirements. The inspectors regularly came across owner-operators—truck drivers who own their own small trucking businesses—who were new to the trucking industry and didn't have a basic understanding of the safety rules they were supposed to comply with, said Andrews.
A report filed by one of his inspectors in early 2020 described the suspension of several trucks hauling Amazon freight for breaking federal rules about the number of hours their drivers were working. "This is an ongoing issue with multiple 'pop-up' companies that haul Amazon freight into Vermont," the report said. "Inspectors routinely place said vehicles out of service on a weekly basis."
"This is the outcome of bringing in less and less experienced drivers and working them harder and harder," said Viscelli.
A Legal Turning Point
Last November, a 30-year-old truck driver named Jovan Watson was hauling Amazon freight northbound on Highway 27 in Palm Beach County, Fla., when he overcorrected after drifting onto the shoulder of the road, causing his tractor-trailer to jump the median, according to a police report of the incident. Watson's truck crossed into southbound traffic, colliding with two other vehicles.
The first was a flatbed truck driven by a 37-year-old father of three named Ernesto Ramirez, who owned a sod business. His vehicle struck the front of Watson's dark-blue trailer, which was blocking both southbound lanes of the highway. The cab of the truck Ramirez was driving crumpled upon impact. He died on the scene.
The second vehicle—a red sedan driven by 30-year-old Jesus Vela—was thrown backward by the impact with Watson's truck, spinning out across the highway and crashing into the median. Vela's right leg was crushed and his ribs fractured. Vela was airlifted to a nearby hospital, where he was placed in intensive care and underwent several reconstructive surgeries. The accident has financially devastated Vela, who doesn't have health insurance, according to an online fundraiser for his medical expenses.
WPTV news footage of the fatal crash in Palm Beach County, Fla., last November involving a truck driven by Jovan Watson, who was moving freight for Amazon.
In the wake of the accident, Ramirez' life partner, Sindy Jimenez, has struggled to adjust to life as a single mother, according to her attorney. The two were high-school sweethearts who raised three children together and described themselves as husband and wife, though they never officially married. Jimenez declined to be interviewed on the advice of her attorney, who said she hadn't yet been officially deposed and didn't want to jeopardize the legal case.
Both Vela and Jimenez recently filed separate lawsuits against Watson, Amazon and the trucking company Watson worked for, Aum Logix, in Palm Beach County Circuit Court for gross negligence and wrongful death. The lawsuits could represent a turning point in Amazon's efforts to avoid liability in crashes that involve drivers moving freight for the company.
That's because the suits are believed to be among the first involving a truck driver working for a company that is an Amazon Freight Partner, a program the internet retailer quietly started in 2019 that gave it even more control over the small trucking companies participating in it. To become a partner in the program, trucking companies must agree to only transport cargo for Amazon.
In exchange, they receive guaranteed work from Amazon and are allowed to lease up to 20 new Amazon-branded tractors without paying Amazon any upfront fees. Carriers that join the freight partner program aren't able to set their own rates or choose the routes assigned to their drivers, and they can't use the tractors to complete work for other companies. And, like all trucking companies that do work for Amazon, participants in the program have to promise to hold Amazon harmless and indemnify it for any damage, death or injuries caused by their drivers.
But Amazon may have opened itself up to liability with the program, in part because the internet retailer owns the tractors that freight partners drive. Attorneys for the victims in the Watson crash plan to make that point a key part of their argument for why Amazon is accountable in the case. Video footage of the crash from a television news helicopter shows Watson's dark-blue tractor with white Amazon smiley-face logos on the doors and a wind deflector atop its roof.
"It would be hard for Amazon to waive their hands in the air and say they're not to blame, because they are the owner of the vehicle," said Luis Sosa, one of the attorneys representing Jimenez. "They can't just hide behind the driver. Here in Florida, the owner of the vehicle shares liability, though it is capped at certain points unless you can show active control, which we intend on doing."
On April 22, the attorneys representing Amazon in both suits filed motions requesting additional time to respond to the complaints. Sosa is confident that Amazon will not be able to extricate itself from this case.
Though the AFP program is still technically available only to those invited to join—outside its statements to The Information, Amazon has not mentioned it publicly—it has grown rapidly, with more than 130 small trucking companies in the U.S. alone participating as of April, according to documents detailing the program's growth viewed by The Information. Most of those companies have between three and 20 Amazon tractors and employ seven or more drivers, who are paid a minimum of around $20 to $22 an hour plus benefits.
In the meantime, Aum Logix, the company that employed Watson, remains an active member of the AFP program as of May, according to an internal document viewed by The Information.
The attorneys for Watson and Aum Logix didn't respond to multiple attempts to reach them via email and phone, and the owners of Aum Logix didn't respond to emails seeking comment.
A Dark Place
A bystander's 911 call made three minutes after Munson's truck struck Baidas paints a harrowing image of the moments after the April 2020 crash. The caller, who identified himself to the operator as Isaac, wasn't present during the crash, but pulled over to the shoulder of I-45 north of Houston to report the wreck shortly after it happened.

"There's a real bad accident on I-45 and Rankin Road and it's really bad," says the caller, who has to raise his voice to be heard over the sound of a man shrieking in the background. "You hear that guy screaming? He don't know where his wife is at."

The screaming man was the father of the two children injured in the accident and the common-law husband of Garcia, the 21-year-old pregnant woman who was outside the vehicle when Munson's truck hit her.
"I think the man just said that his wife is underneath the 18-wheeler," the caller tells the operator.
At the time of the accident, Munson was hauling 10,000 pounds of Amazon cargo from Dallas to an Amazon distribution center near downtown Houston, according to one of the investigations of the crash submitted to the court. It was a route he followed often as a dedicated Amazon driver for J.B. Hunt, a publicly traded trucking company founded in 1961 in Arkansas.
Baidas and the families of the man and woman who died in the crash have sued Amazon, J.B. Hunt and Munson for negligence. They say that Munson's driving history was evidence he was a danger to himself and others, and that the companies shouldn't have allowed him to continue to transport freight between Amazon's warehouses.
The months leading up to the crash were difficult for Munson, according to copies of public Facebook posts made by the truck driver, submitted to the court as evidence. (The document wasn't publicly accessible in the court filing system, but The Information obtained a copy from an attorney for Baidas, Muhammad Aziz.) In the posts, which have since been made private on Facebook, Munson complained that his job had him "working all different kinds of hours."
He lamented the 14-hour overnight shifts, which he wrote often had him going to bed before most of his friends woke up. He also mentioned that he suffered from insomnia and complained repeatedly that he had difficulty sleeping through the night.
Internal records from J.B. Hunt obtained as part of Baidas' lawsuit also show the problems Munson had after joining J.B. Hunt's Amazon team in late 2018. Over the next year and a half, Munson's employer wrote him up nine times for "critical vehicle safety events"—trucking-industry jargon for events that nearly result in crashes.
In most of the incidents, Munson failed to keep a proper following distance and couldn't brake in time to avoid a collision, triggering his truck's emergency braking system. He received written warnings following the majority of these errors. The most serious disciplinary action he faced—three months of probation—came after he backed into a concrete barrier at an Amazon warehouse late one evening in January 2020. Munson is currently unemployed, lawyers representing him and J.B. Hunt said in a recent court filing.
In late April, Attorneys for J.B. Hunt and Munson requested that these records—and at least three others obtained by The Information—be subject to a protective order and sealed from public view. However, they were previously made accessible to the public for at least a week in the court filing system, during which time The Information obtained copies of them.
In its filings related to the suit, Amazon maintains that it has no legal responsibility for Munson's actions because he wasn't under Amazon's "direction, control and/or supervision." Even Aziz said he has doubts about whether Amazon will be found liable in the crash because of how it structures its trucking operations.
To make roadways safer, researchers say policy makers may need to enact new laws to ensure that companies like Amazon are held liable for the actions of truckers working for them. Belzer of Wayne State University praised one such legislative effort: Australia's chain of responsibility laws, introduced in late 2018, which broaden liability from truck drivers to all parties in the supply chain. The laws criminalize the business practices of retailers and other companies that cause or encourage truckers to speed or to drive while fatigued.
In the year since the Houston crash, Baidas—who declined through Aziz to be interviewed, citing trauma—has struggled to find his way in the world. The recovery process has been difficult and his injuries have made it nearly impossible to return to work. His first attempt at prosthetics didn't work—the amputation site on one of his legs was too high to achieve a proper fit—and that was a big setback for him mentally, his attorney said.
"He was in a really dark place after that," said Aziz.
Paris Martineau (
@parismartineau
) is a reporter covering power and influence in the tech industry. Using a non-work device, contact her via Signal at +1 (267) 797-8655.