MILFORD, MASS.—When the Amazon warehouse came to town in 2016, most residents of Milford, located 45 minutes from Boston, didn't think much of it. The internet retailer submitted plans to city officials for a delivery station—essentially a post office exclusively for Amazon packages—that it wanted to open in a vacant warehouse on the east side of town. Amazon engineers downplayed the traffic impact on the surrounding area, saying in a meeting with town planners that it would be less disruptive than the humidifier manufacturer that had occupied the warehouse previously.
Soon after the delivery hub opened, though, hundreds of Amazon delivery vans began flooding the streets each day, moving in caravans of 50 to 100 vehicles that brought local traffic to a standstill and left nearby roads littered with trash and bottles of urine that residents blamed on Amazon drivers, according to local officials. Those vans, which The Information witnessed on a recent visit to the town, also compete for space on Milford's aging roads with more than a hundred semitrucks a day hauling Amazon cargo. The trucks regularly cause property damage and noise complaints as they rumble through narrow intersections and down one-way residential streets.
In March, one of those semitrucks knocked over a fence and a large tree at a cemetery located across the street from a second Amazon facility that opened in Milford last year. A few weeks later, another semitruck hauling Amazon cargo accidentally drove into the cemetery itself, damaging a grave monument and two signs. Some Milford roads have become so clogged with truck traffic that the town in April began putting up signs that say "No Amazon Trucks" to deter drivers from using narrow streets and other areas where they get stuck.
The Takeaway
• Milford, Mass., has fought Amazon over truck traffic and noise
• Amazon recently formed team to address community concerns over operations
• Amazon paid for signs prohibiting Amazon trucks on some Milford streets
After discussions with Milford town officials, Amazon paid for and designed the signs, and has offered them to towns around the nation as more communities grapple with Amazon's impact.
"When Amazon came to town, the entire dynamic changed and it got worse and worse and worse and worse," one Milford resident, David Bliss, said in a January 2020 public hearing with local officials, a recording of which The Information viewed. "It's like they're taking over the town."
The battles that Milford residents have waged against Amazon shows how difficult it is for a town of 30,000 people to hold one of the world's most powerful tech companies accountable for its impact on residents' quality of life. In public meetings over the past several years, Amazon representatives stressed that the company wasn't responsible for the actions of truck and van drivers who transport its goods because they are independent contractors. Milford officials insisted otherwise.
After years of resistance, Amazon has begun reckoning with the chaos its operations brought to Milford. Last October, members of a new Amazon community operations team came to the town, and agreed to meet regularly with local officials to address and resolve issues. The town appointed two Amazon liaison officers who pass on residents' complaints to the internet retailer on a near-daily basis. The team now working with Milford officials is part of a broader task force within Amazon Logistics formed in April 2020 to address concerns from communities around the nation about the impact of Amazon's delivery operations.
"We know that our operations aren't always perfect," said Andrew Cohen, a senior manager of Amazon Logistics' community operations team in a June 21 meeting with the Milford select board, which The Information attended. "We can impact the community with things like noise, lights, traffic and trash. But this team is designed to partner with the community leaders and drive resolutions and help solve those problems."
The conflict illustrates the many challenges Amazon could soon face in cities around the U.S. as a result of its breakneck physical expansion. Amazon has invested tens of billions of dollars toward expanding its in-house delivery network during the pandemic, with a particular focus on opening new delivery hubs like the facility that opened in Milford in 2016. Since early 2020, Amazon has opened over 260 such facilities, bringing the total number of delivery stations in the U.S. to more than 420, according to data from consulting firm MWPVL International.
Amazon aims to eventually have a delivery station within an hour's drive of most of the U.S. population, which would allow it to deliver packages to customers quickly without relying on outside shippers like FedEx and the U.S. Postal Service. But that convenience often comes at a cost to those who live and work near the stations.
Milford isn't alone in grappling with communities snarled by traffic and plagued by noise from Amazon's local operations. Residents of East Hartford, Conn., and Tracy, Calif., have pressured local governments to bar Amazon trucks from residential streets, fearing property damage. And in Norwich, England, residents are up in arms over an Amazon facility that attracts fleets of delivery vans. They clog key intersections and park illegally, blocking access to local businesses.
"Towns have to realize what they're up against here," said Bryan Cole, a member of Milford's planning board. "Our planning department is a single town planner and a single engineer, and you stack that against one of the richest companies in the world. You've got to have your act together or they're going to run over you."
In a statement, an Amazon spokesperson said: "The safety of employees, drivers and communities we serve is our top priority. When we enter a new community we work closely with local community leaders, business owners, and policymakers to address any concerns regarding the impact of our operations. We worked with the City of Milford throughout our expanded growth and look forward to the continued community partnership."
The spokesperson denied that it was an Amazon truck that struck a grave monument in the cemetery located across the street from an Amazon facility in April. But in the recording of the Milford meeting in April, a town official said Amazon representatives offered their condolences to the family of the person whose grave was hit by the semitruck, and that Amazon hired contractors to repair the damage in the cemetery.
'A Dump Site for Amazon'
At first, the prospect of an Amazon delivery station seemed to have little downside to Milfordians. The internet retailer said the facility would bring about 310 jobs to the town, about 135 of which would be positions for subcontractors driving delivery vans. Delivery stations like the one in Milford are far smaller than the gargantuan Amazon warehouses known as fulfillment centers, which often employ more than a thousand workers.
It didn't take long for Milford's relationship with Amazon to sour, though. Like all Amazon delivery stations, the Milford facility was designed to process tens of thousands of packages a day, relying on subcontractors to bring those packages to customers in delivery vans within a 25- to 50-mile radius. In the Milford facility's case, that includes the greater Boston area and affluent suburbs like Framingham and Wellesley.
But as Amazon grew, so did the traffic on Milford's streets, including Amazon delivery vans and the larger trucks that brought packages to the delivery station from other Amazon facilities. By 2018, hundreds of Amazon vans were driving through town each day, according to local officials. They quickly outgrew Amazon's available on-site parking, and instead parked two or three abreast on public roadways near the delivery station—sometimes blocking the road entirely—and in local businesses' parking lots, said residents in recordings of public hearings viewed by The Information.
Lines of cargo vans waiting to enter the Amazon facility to pick up packages for delivery frequently stretched down the street and into neighboring roads and intersections, halting local traffic. They often left the delivery station in coordinated caravans of 50 to 100 vehicles every half hour in the morning and early afternoon, storming nearby intersections in a tightly packed unit that local officials described in a public meeting as akin to a "funeral procession." The cargo van groups often took up multiple lanes at once and frequently disregarded traffic lights, making it difficult for others to use the roads, said local officials.
Amazon semitrucks, too, began to grate on residents' nerves. Between 10 p.m. and 5 a.m., dozens of tractor-trailers carrying Amazon cargo moved through Milford. They honked as they entered and exited the Amazon facility, beeped loudly as they backed up and shook the walls of nearby homes as they struggled to maneuver down Milford's many narrow one-way residential streets, according to public records of residents' complaints. Often, their hulking frames were too large to cross the intersection near the highway without taking up multiple lanes of traffic, which sometimes meant passenger vehicles would have to drive in reverse down the road to avoid collisions. The Information witnessed this occurrence multiple times during a recent visit to Milford.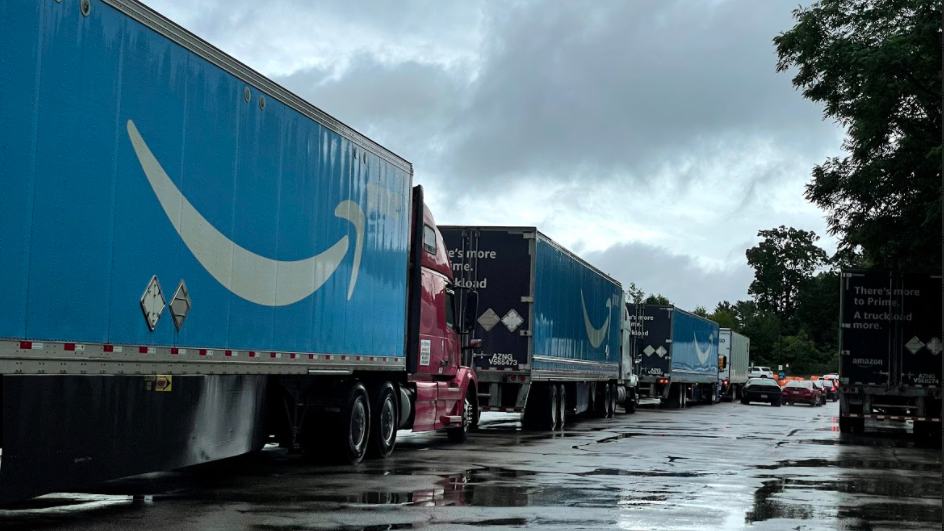 By mid-2019, residents had had enough. Employees of nine businesses located near the Amazon delivery station signed a petition asking the town planning board to limit Amazon's access to nearby roads and address residents' growing safety concerns. Shortly thereafter, an Amazon representative claimed Milford's issues had been "resolved."
"Frankly, it feels like Milford has become a dump site for Amazon," said William Buckley, who was then chairman of Milford's town council, known as the select board, in a December 2019 public meeting on the issue.
When Milford officials approached Amazon, representatives from the internet retailer said that since the semitruck and van drivers were contractors, Amazon had no control over or responsibility for their actions, according to a recorded meeting between the two, which The Information viewed. "That's a corporate mentality that you use on small podunk towns that don't believe they have the wherewithal to either go through court systems or to go through the planning process to stop them," said Buckley in the December meeting.
A month later, Milford residents packed a room beneath the town hall for another select board meeting, the first in the town that Amazon officials would attend. Many residents came prepared with lengthy statements about how Amazon's operations had affected their lives over the last several years, according to a recording of the meeting. The select board asked the Amazon representatives to submit an action plan to the town within 48 hours outlining how the company would address residents' concerns and whom they should contact with future issues.
Two days later, town administrator Richard Villani said Milford didn't receive such a plan from Amazon after the meeting, according to local news reports.
'It's like they're taking over the town.'
In the meantime, as its delivery needs grew, Amazon began to strike deals with local property owners to lease acres of land around Milford to store hundreds of Amazon delivery vans and the big blue-and-white Amazon-branded trailers that the tractor units at the front of semitrucks pull, according to local records and planning board officials. The arrangement was supposed to be a temporary fix until Amazon built out parking on its own property, but it soon became a permanent fixture of Milford's landscape, planning board officials say.
Today, at least six areas in town are exclusively dedicated to Amazon parking, according to Cole of the Milford planning board. Even the board doesn't know exactly how many vehicles Amazon stores in Milford, as some of the lots are of "questionable legality" and have not been approved by local officials, said Cole.
The presence of Amazon's transportation armada is inescapable around Milford, as a recent visit to the town revealed. In a gravel lot bordering one of Milford's busiest intersections, blue-and-white Amazon-branded trailers loom over a nearby McDonald's. Hundreds of empty Amazon-branded Ram ProMaster delivery vans fill an asphalt parking lot near a liquor store, next to a bank of portable toilets for drivers. And a strip mall on the east side of town is surrounded on three sides by row after row of Amazon-branded vans. One afternoon in late June, the wind blew an Amazon tote bag—which drivers use to hold multiple Amazon packages—across the parking lot like some kind of modern-day tumbleweed.
"I think we have enough data at this point to say that these are a net negative for the community," said Cole.
In response to resident complaints about the high number of Amazon vehicles parked in various neighborhoods, Milford's planning board in June began working to close a zoning loophole that has allowed Amazon to store its vans and trailers around town. The amendment, which will likely be voted on at a Milford town meeting this fall, would prohibit the development of future lots where the site's primary purpose is to store or park commercial vehicles. Such parking lots would only be permitted as an accessory to another building, like a warehouse.
"It's only since Amazon showed up that things went down the tubes," Milford town planner Larry Dunkin said in a June meeting on the proposed bylaw change.
'Shocked If Not Mortified'
The tension between Milford residents and Amazon got even worse last year, when Amazon opened a second facility in the Milford area called a sortation center, a warehouse where Amazon packages are separated into groups based on the zip code of their final destination. Once packages are sorted, tractor-trailers truck them to delivery stations, where they're loaded onto vans.
Tractor-trailer traffic in Milford spiked with the opening of the sortation center. Today, upward of 150 tractor-trailers carrying Amazon cargo rumble through the town on a daily basis, infuriating many nearby residents, who have submitted dozens of complaints to local authorities and the Massachusetts Department of Environmental Protection about late-night noise from the traffic. The Information visited the area outside the sortation center one recent evening and counted 52 tractor-trailers entering and exiting the facility between 10 p.m. and 11 p.m. The Information measured sounds from the trucks at or above 85 decibels, comparable to the noise level of a lawn mower.
The semitrucks regularly cause property damage as they attempt to maneuver through the town's narrow streets. In the past six months alone, Amazon-branded semitrucks in Milford have destroyed a traffic light, a retaining wall, a Stop & Shop sign and multiple fences, according to local officials.
Over the past year, one Milford resident, Anthony Collari, said he has witnessed dozens of 53-foot Amazon tractor-trailers getting stuck while trying to squeeze down his narrow street. The vehicles regularly wake him and his wife up at all hours of the night and he has seen them destroy the mailboxes of two of his neighbors, he said in an email. Collari, who said he is an Amazon Prime member, called Amazon's activity in the area "downright irresponsible."
Locals were especially incensed by the damage that tractor-trailers visiting the Milford sortation center caused at a nearby cemetery. In March, one truck hit a fence and a large tree at the cemetery. Amazon representatives were "shocked if not mortified" by another incident, which occurred just a few weeks later, in which a truck knocked over a grave monument and two signs, expressing their condolences directly to the family of the person whose grave was damaged, said Milford select board member and Amazon liaison Thomas O'Loughlin in the public meeting in April. The driver said that his navigation app directed him to drive into the cemetery, according to O'Loughlin.
Amazon hired contractors to repair the damaged monument, signs, fence, and paid to replace the downed tree, said O'Loughlin. Shortly after the incidents, Amazon also donated $2,500 to the town of Milford, according to minutes from a late April meeting of Milford's War Memorial Revitalization Committee.
O'Loughlin didn't respond to requests for further comment.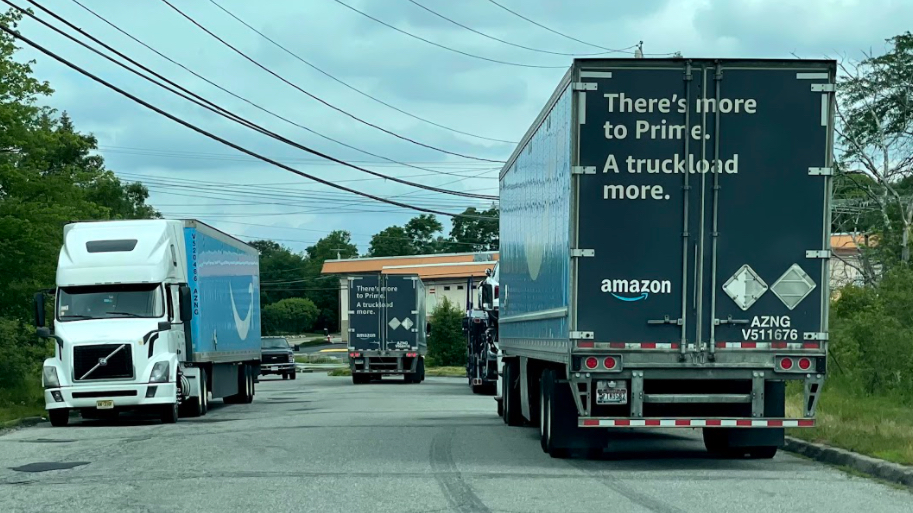 Milford has sought to bring order to the mess by plastering streets and parking lots frequented by Amazon drivers with signs telling them they're not allowed. The area surrounding the cemetery, for example, has signs prohibiting tractor-trailer parking, a warning that several drivers of Amazon-branded semitrucks ignored on a recent visit by The Information to the area.
"It's offensive to have lines of tractor-trailers when people are taking care of loved ones at a cemetery," O'Loughlin said in a March public meeting on the issue.
In April, Milford began putting up signs with a more explicit message in both English and Spanish—"No Amazon Trucks"—along narrow one-way residential streets and other spots too precarious for large vehicles. Amazon paid for and designed the signs, along with those near the cemetery, according to local officials. Milford officials vetoed Amazon's initial design because it featured a drawing of the wrong type of vehicle—a small box truck, which Amazon uses for deliveries and which is permitted on all Milford roads, instead of a tractor-trailer, O'Loughlin said in a January select board meeting.
The signs don't deter all of the drivers moving Amazon's cargo through Milford. Since their installation, the town has received complaints from residents about Amazon tractor-trailers disregarding the notices. Part of the problem may be that an Amazon app the internet retailer uses to provide directions to truckers is still sending them down one-way residential streets posted with the signs, O'Loughlin said in multiple select board meetings.
Recently, Amazon has sought to patch things up with Milford residents by organizing trash cleanups near its facilities, installing portable bathrooms for workers and delivery drivers, and prohibiting honking at its facilities, Cohen, the Amazon logistics manager, said at the Milford select board meeting in June. The vans now queue in a parking lot near the Amazon delivery station instead of on public roads, and drivers are instructed to leave room for local traffic when on the road.
"We know we have a long way to go and a lot to improve upon," Cohen said at the meeting.
Paris Martineau (
@parismartineau
) is a reporter covering power and influence in the tech industry. Have a tip? Using a non-work device, contact her via Signal at +1 (267) 797-8655.