These are 221 of the top managers running Alphabet. This chart reveals the conglomerate's reporting structure and includes 10 people who report directly to CEO Sundar Pichai. It includes the 97 most senior managers reporting to the head of "moonshot factory" X, which includes the leaders of internet balloon subsidiary Loon and drone delivery developer Wing. The chart also shows the direct reports of CFO Ruth Porat; the most senior managers and researchers at life sciences subsidiary Verily and the most senior managers and researchers at DeepMind, the AI subsidiary. It also includes the leadership teams of Alphabet's two tech investment funds, GV and CapitalG. (See separate organizational charts of the top 540 managers at Google and the self-driving car subsidiary Waymo.)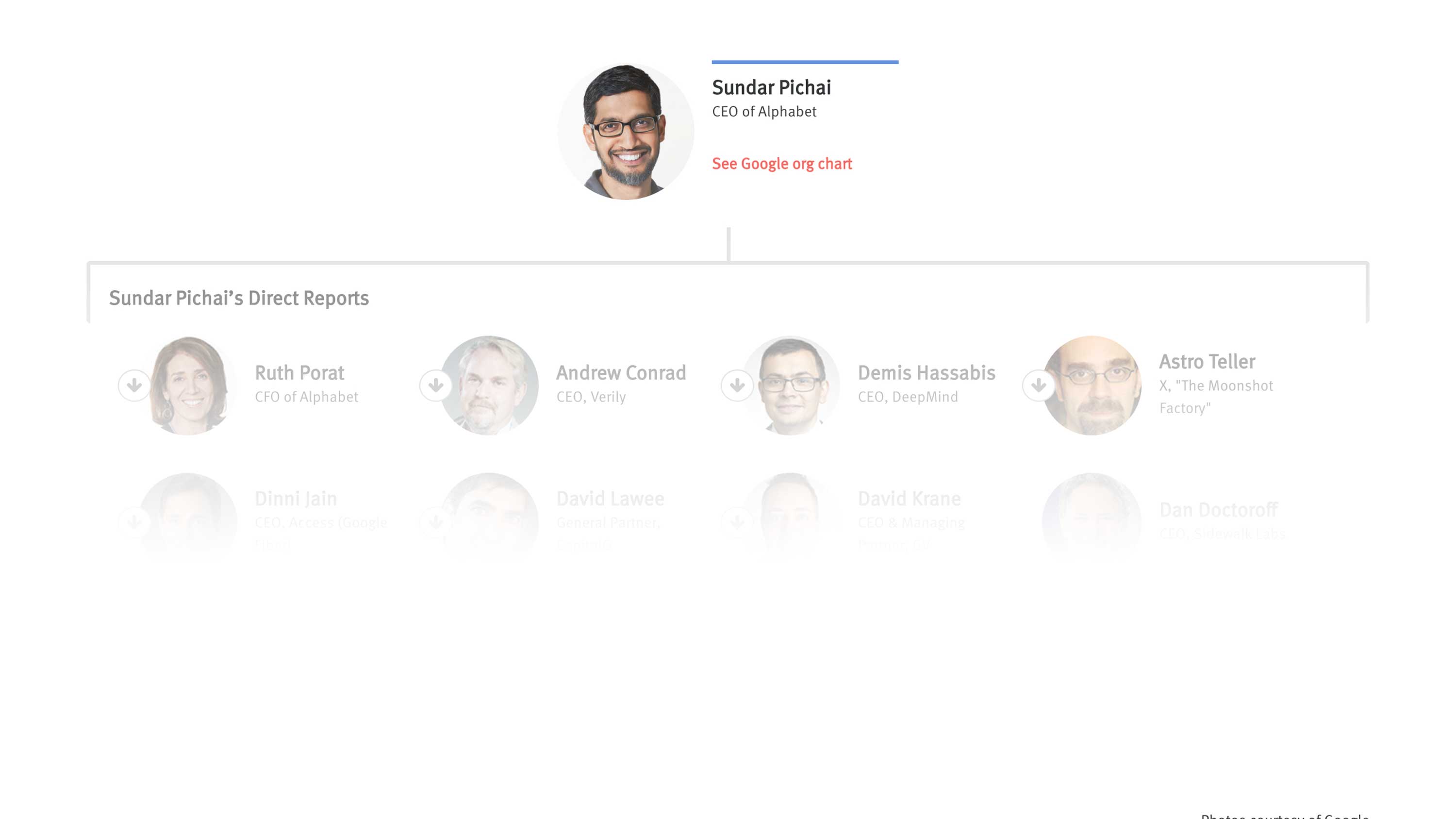 Last updated Dec. 28, 2020
Get access to exclusive coverage
Read deeply reported stories from the largest newsroom in tech.
What Today's Tech Leaders Can Learn From 1850s San Francisco
A tent city in SOMA. Hundreds of people dying of infectious disease. Out-of-control crime on the streets and corruption in City Hall. Let's talk about San Francisco…in the 1850s. Immediately after the Gold Rush, San Francisco became the home of thousands of destitute, out-of-work miners. Poverty was rampant, cholera was endemic, and the rats were "fat and daring,"...
Taboola and Latch Announce SPAC Mergers
Finnish Delivery Start-up Raises $530m To Fund Expansion
NBCU Signs Deal for WWE Network to Be Exclusive on Peacock
Stay in the know
Receive a summary of the day's top tech news—distilled into one email.
Access on the go
View stories on our mobile app and tune into our weekly podcast.
Join live video Q&A's
Deep-dive into topics like startups and autonomous vehicles with our top reporters and other executives.
Enjoy a clutter-free experience
Read without any banner ads.